Services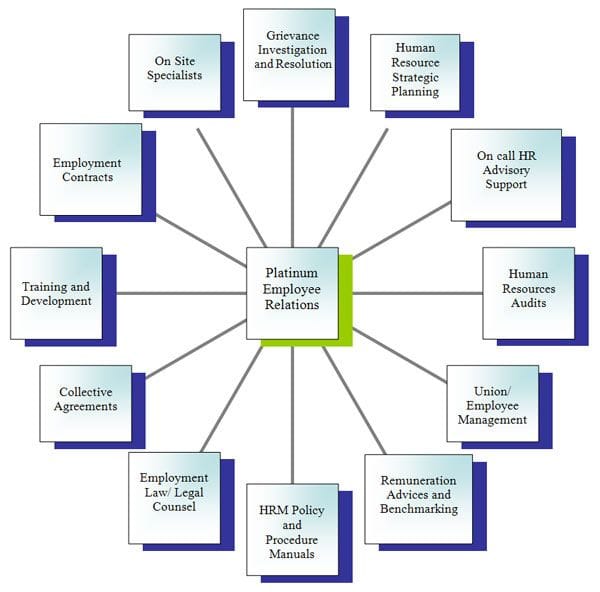 HUMAN RESOURCE AND INDUSTRIAL RELATIONS SERVICES EXPLAINED
Industrial Agreements
Having considerable experience in negotiating of State and Federal Collective Agreements, Union Collective Agreements, Common Law Contracts & Independent Contractors Agreements, Platinum Employee Relations will develop a timely and cost effective strategic negotiation framework that involves all stake holders in an agreed consultative process.
Management of workplace conflict & dispute resolution
With the experience and capacity to work closely with all levels of your business in the management of difficult and challenging employees, including significant workplace disputes, Platinum Employee Relations has the experience and expertise to ensure a successful resolution is achieved on any issue that may arise.
Termination and Dismissal Management
In partnership with your business we will assist in effectively working the discipline and termination process, ensuring the principals of natural justice and due process are adhered to.
Workplace Investigations
Platinum Employee Relations has the ability to carry on discreet investigations, which may arise from employees commencing the disputes resolution procedure with claims such as harassment, bullying and discrimination.
Industrial Relations and Tribunal Representation
We have the capacity and expertise to manage unfair dismissals, workplace disputes, certifications and discrimination claims across all legal arenas.
Change Management
With organisations having to constantly adapt and change to meet commercial and shareholder demands, Platinum Employee Relations can assist in all aspects of managing change, whatever the scale.
From ensuring the integrity of the process of managing employee redundancies along with the necessary legal compliance we have the experience and knowledge to guide you through the complexities of organisational change.
Provision of on site HR specialists and Generalists
Platinum Employee Relations has a number of specialists available to fulfill either short or long term placements. Whilst it may not be feasible for you to consider a full time role we are able to provide you with an affordable option for managing your onsite HR needs, whatever the brief.
Develop and implementation of HR Management tools.
Platinum Employee Relations has developed a range of legislatively compliant, plain English workplace policies that can be specifically tailored to complement your organisation's philosophy whilst ensuring legislative compliance.
Develop and implementation of Quality Management.
Platinum Employee Relations can assist your business with Quality Management ISO 9001, being registered offers great advantages of process improvements and growth to the bottom line.
Mergers & Acquisitions
Platinum Employee Relations have successful HR Strategies in Mergers & Acquisitions that address the often neglected human side of M & As by providing a hands-on and strategic framework to assess the link between M&A success and HR strategies and effective initiatives.